Partnership Between HEART Trust and NICE Global Benefiting Everyone Involved
December 12th, 2016
By Nice Global
NICE Global News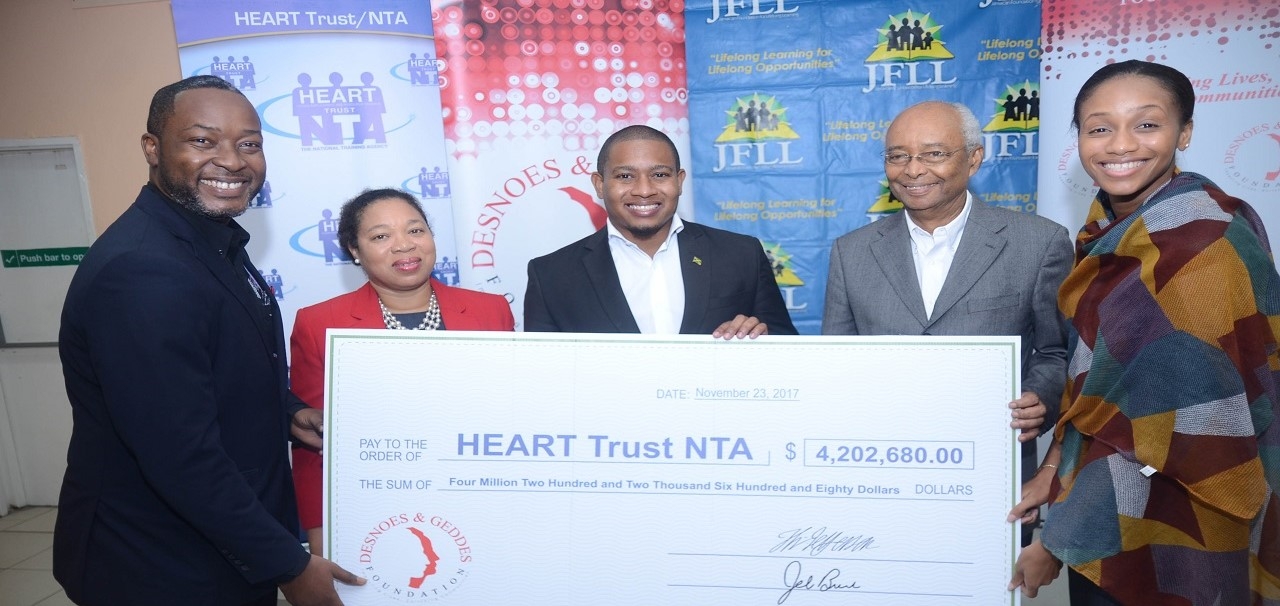 Partnership Between HEART Trust and NICE Global Benefiting Everyone Involved
The growing multi-billion dollar Business Process Outsourcing (BPO) sector in Jamaica is offering fresh new opportunities for many young Jamaicans providing well-needed employment and an opportunity for personal and professional development.

For the last five years, the HEART Trust/NTA has been partnering with local and international investors to train and certify the human capital to take advantage of the rapid growth in the BPO sector. The training not only gives the youth an opportunity to fill entry-level positions but provides them with a solid foundation for upward mobility. "The partnership between NICE Global and HEART Trust has been invaluable to us as a company. Our graduates are smart, dedicated, passionate, and full of energy, we are lucky to have them," said Paul Herdsman, Co-Founder and COO of NICE Global.

For Akeem Donegam, now a Sales Team Leader at NICE Global, the BPO sector allowed him to gain real experience while earning an income. After leaving Cornwall College with nine CSEC subjects, economic challenges crushed the young techie's dream to attend sixth-form and to pursue tertiary-level studies.

"Honestly, after graduating from high school in 2013, I didn't have the funds to go the next level but I received a lifeline when I enrolled at the HEART College of Innovation and Technology, HCIT, in Montego Bay", said Akeem.

While at HCIT, Akeem became certified in IT Essentials and CCNA Routing and Switching, which involves installing, operating and troubleshooting a small to medium size enterprise branch network. This paved the way for his first job at NICE Global in 2015, as a Tier 1 Technical Support agent.

"Completing the IT essentials course at HCIT gave me the basic knowledge I needed to be successful in fixing computers and making customers happy. It also gave me the competencies to enter the BPO sector, where those skills are in high demand."

A year later, Akeem was promoted to a Sales agent, a position he noted proved challenging at first and required his complete focus. He attributed his success to a change in perspective and attitude.

"I have grown a whole lot! When I first got employed at NICE Global, I viewed the business from an agent perspective but my horizon broadened significantly when I fully embraced the amazing scope of opportunities in the BPO sector," noted Akeem.

It wasn't long before Akeem rose through the ranks and was promoted to Sales Team Leader, responsible for training, developing, and managing Sales agents.

It was a similar story for Akeem's co-worker at NICE, Kirk Campbell, who was trained and certified at the Kenilworth HEART Academy in Hanover.

"My training at HEART was practical, which I believe is responsible for my success at NICE Global. At HEART, independent learning is constantly encouraged and this comes in handy at my workplace as I have to complete projects in a timely fashion usually doing outside research. HEART trained me to develop my critical thinking skills which gave me the confident disposition needed to survive the BPO industry".

When asked what inspired him to enter the BPO sector Kirk was open and frank. "To be honest, entering the BPO sector was a way of becoming financially independent. I never planned on staying for more than a few months as I was still waiting for my dream job. I chose to stay in the BPO industry because it is a fast-paced, data-driven, and innovative environment where I could do what I love," said Kirk.

But after four years of hard work, Kirk now describes his development as "superhuman" as he learned to deal with everything from challenging clients to "eccentric" colleagues. After several promotions, which saw him moving from a Tier 1 Technical Support agent, a Subject Matter Expert (SME), then to a tier 2 and 3 supervisor, he is now a Workforce Manager.

In his current role, Kirk is responsible for liaising with management and the operations team to ensure compliance with company standards, as well as to make recommendations to improve schedule efficiency and team member satisfaction.

Another graduate of the Kenilworth Academy, Ricardo Bruce, is also making waves in the business process outsourcing sector. Apart from his computer repair course at Kenilworth, he readily admits that it was the training in soft skills in areas such as responsibility, perseverance and dedication, which has set him apart.

"I remember the first class I attended and heard other students using technical jargon about computers parts, that I was initially intimidated. However, I was so determined to succeed that I quickly caught on and was awarded "Trainee of the month" on many occasions.

Now after four years of working in the BPO sector, Ricardo believes he has grown as a person. "I am more confident and competent. I also realize that I am the master of my own destiny and that forces me to strive for the best in everything I do." As a Quality Assurance Specialist at NICE Global, Ricardo is happy to be working in the BPO sector as it has proven to be a life-changer for him.

As more individuals become a part of the BPO sector many are encouraged to use the opportunity as a stepping stone in their career development. Akeem is preparing to pursue higher studies in Information and Communication Technology. "God willing I would love to become an IT manager or obtain a high post as an IT executive whether in or out of the BPO industry. My ultimate career goal is to mentor and create employment for hundreds of people in Jamaica's IT industry", says Akeem.

Kirk is currently pursuing a bachelor's degree in Computer Science at HCIT, which he couples with his voluntary initiatives like giving back to the church. "My intention is to become self-actualized in the field of software development and eventually own a software development company," said Kirk.

As Jamaica's human capital development agency, over the next three years, HEART plans to train and certify 11,000 persons for the BPO sector annually, for a total of approximately 33,000 BPO-trained graduates by 2020.